Sorry I'm Hungry Burger Cafe in Bangkok
When it comes to Bangkok dining options, the city is a hive of culinary delights 😋 with restaurants serving food styles from the four corners of the planet 😍
If you are looking for a top-notch burger 🍔 joint in Bangkok, I would highly recommend 'Sorry I'm Hungry Burger Café' 😋, which is located near to the BTS Wongwian Yai Station. American food and burgers are the cornerstone of Western cuisine and the go-to food especially when you are really hungry 🤤 and in need of a gut-busting experience.
Although there are so many top-notch restaurants 🍽️ in the Bangkok dining scene, it is not always easy to find a good burger built to high American specifications 😍 This is why you simply have to visit 'Sorry I'm Hungry Burger Café' with me to see for yourself what I've been sharing about 😋
A Top-Notch Burger Joint
This restaurant might not be a large-scale affair, but what it loses in size makes up for its delicious food 😀 This cozy eatery serves some of the most delicious burgers 🍔 in Bangkok with stunning and super-crispy fries 🍟 and an array of other tasty options 😋 The restaurant is quite busy on Thursdays and Fridays but is quite a peaceful place for most of the week. The choice of burgers on offer is simply stunning 😍
Experience an array of recommended options such as the double cheeseburger or their large hungry burger if you are really starving 🤤 Their Tower Burger and Salmon Burger are some of the most highly recommended in the restaurant and must-try for hungry consumers 😋 Alongside the vast choice of burgers, there are tasty pasta dishes 🍝, BBQ ribs 🍖, lots of salad options 🥗, appetizers, desserts 🍨, and even some Korean delights if you do not fancy a burger or are visiting with your Thai partner ❤️
Backpacker Restaurant Ambience in Bangkok
Thailand is known for quality dining options with the Bangkok dining scene being the jewel in the crown of culinary 🍽️ styles in the Kingdom. There are so many great dining options in Bangkok from high-end fine-dining establishments to small street vendors and food stalls 🥘 in many prominent areas of the city such as Patpong Market and Khaosan Road. Whether it comes to air-conditioned Irish and British pubs 🥂 that serve top-notch cuisine in a very tourism-inspired location or a cheap and friendly Thai restaurant on the side of the road 😋, Bangkok has something for everyone 😍
When you need to eat a proper American-style burger in Bangkok 🍔 or want to eat some clean and affordable American cuisine for late breakfast, dinner, or lunch, the Sorry I'm Hungry Burger Café 🤤 is a top choice and it is just a 5-minute walk from the Wongwian Yai BTS station. The range of stacked burgers is something special and not that easy to find in the city 😀 Make sure you come and try out the best in American cuisine while you are here in Bangkok ❤️
The Bear Travel Rating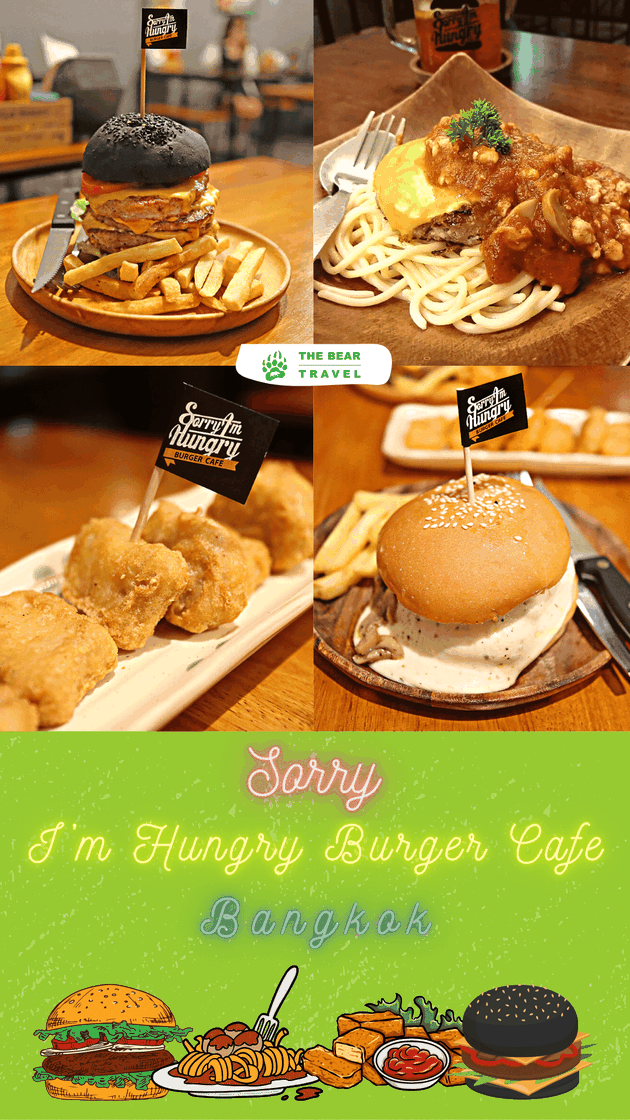 Ambiance


Food Quality


Dish Size


Value for Money


Map & More Information
Sorry I'm Hungry Burger Cafe serves some of the most delicious and top-notch burgers in Krung Thep Maha Nakhon (Bangkok) with stunning, super-crispy fries and an array of other tasty options.
| | |
| --- | --- |
| Business Hours | 12.00 – 22.00 hrs | Monday – Sunday |
| Business Address | 23 Soi Krungthonburi 4, Bang Lamphu Lang, Khlong San, Bangkok 10600 |
| Contact Number | +66 (0) 89 000 3150 | +66 (0) 91 655 9835 |
| Email Address | |
| Facebook Page | |
| Instagram | |
| GPS | 13.7204522, 100.4933233 |