Chu: A Casual Chocolate Bar and Cafe in Bangkok
Phrom Phong is a bustling area that attracts crowds both day and night 😍 With its abundance of shopping malls, restaurants, trendy bars, delicious bakeries, and more, there's never a shortage of things to do or see. So, give yourself a few days at least if you want to visit all the wonders Phrom Phong has to offer, and most importantly, it is perfect for cafe hoppers 🤤
We all know that Thai food is so good, and Bangkok's Phrom Pong is a food paradise with various flavors, combinations, and spices 🤩 But what happens when you feel like something else? 🤔 Like, the best brunch in Krung Thep Maha Nakhon (Bangkok), for example? Then look no further than Chu Chocolate Bar & Cafe, which relocated recently, but its reputation has been consistently great! 😍
Every End is A New Beginning
A nutritious breakfast or lunch 😋 is necessary to keep workaholics like me up and running 😁 So recently, I was at the Chu Chocolate Bar and Cafe to try out their lunch menu 😍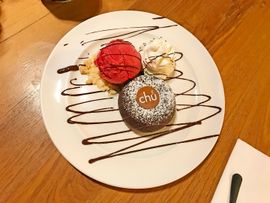 Chu Chocolate Bar and Cafe in its new location is famous for its Western-style breakfast and lunch menu 💕 Their service quality has always been satisfactory, and the calm ambiance is popular among locals and Westerners 🤗
The breakfast here cannot be complete without the mouthwatering waffles 🧇, pancakes 🥞, sandwiches 🥪, and light food for lunch with plenty of desserts 🍰🤤
I loved the Chu Chocolate Bar and Cafe so much that I can't stop talking about it ❤️ so let me share some of it with you.
Something New + Fresh
The new location of Chu is better and bigger, including an outdoor yard for kids and dogs to run around 🤩 It's located in a beautiful glass house that allows you to lounge on a comfy couch while viewing the green backyard that shows an oasis inside the metropolitan of Bangkok. Of course, with the same great food 😍
It's a short distance, like 850 meters from Phrom Phong BTS and around 1 km from BTS Asoke 🤩 So, it is easy to get there. Their service quality is satisfactory, and the calm ambiance is popular among locals and Westerners 🤗 The most important fact to share with you is that you don't get many places in Bangkok brave enough to serve chicken and waffles, 🍗🍖 but Chu is one; try them with whipped butter and topped with bourbon-spiced honey 🤤
They are just my favorites! Big breakfast plates and pancakes 🤩 Their fried chicken is the best-fried chicken in BKK. It's super crispy and tasty outside and juicy inside 😍
Try the Egg White Frittata with smoked salmon, mozzarella, cherry tomato, balsamic onion, and rocket with it 🤤 Coffee starts at 90 Thai Baht for espresso or 120 Thai Baht for a flat white, and they are sure to impress both your stomach and your Instagram followers 🤭
Another Unforgettable Food Experience
Among all the new restaurants that have popped up recently, this one is like an old friend in which you find yourself comfortable, relaxed, and have an exceptional taste of every bite! 😌 
As mentioned, Chu Chocolate Bar and Cafe has an amazing ambiance with hot chocolates! 🍫🍩🍨 Once, I got 2 hot chocolates, iced chocolate, chocolate churros, and Jack Daniels milkshake.
Their Jack Daniels milkshake is a definite must-try, and it's even more worth it when you get it during happy hour from 5 pm to 7 pm at 50% off 😌
Chu Chocolate Bar and Cafe offers a broad range of food and the best Eggs Benedict in town 🤤
Apart from Eggs Benedict, their dessert menu 🍰 has a lot of items that I have been dreaming about 😋
I'm sure that once you try out Chu Chocolate Bar and Cafe, you will want more of it ❤️
The Bear Travel Rating
Map & More Information
Chu Chocolate Bar and Cafe is now located in a buzzing street between BTS Asok and BTS Phrom Phong in Bangkok. It is still a popular Western-style breakfast and lunch restaurant. They offer an extensive menu with delicious dishes, and their own Eggs Benedict is famous in the city. The large dining area has many tables and is very popular with expats too!
| | |
| --- | --- |
| Business Hours | 8:00 AM - 22:00 PM | Wednesday - Monday |
| Business Address | 18/1 Soi Sukhumvit 31, เเขวง คลองตันเหนือ, Watthana, Bangkok 10110 |
| Contact Number | +66 (0) 91 545 4847 |
| Email Address | |
| Facebook Page | |
| Instagram | |
| GPS | 13.7358201, 100.5659823 |