Benchasiri Park: A Fun & Relaxing Place in the Middle of Bangkok
Krung Thep Maha Nakhon (Bangkok) is among the world's leading tourist destinations. It has been called the world's highest traveled city in various international surveys. It has developed as a hub for crafts, fashion, and leisure. So, if you are looking for a place around the city to celebrate with your friends or just relax, we recommend you go to Benchasiri Park in Krung Thep Maha Nakhon (Bangkok).
It is a refreshing park that stretches on the Sukhumvit Road in the Khlong Toei District of the city. Although there are many breathtaking national parks in Thailand, Benchasiri Park shows off a swimming pool, an outdoor gym, a skateboard area, and a jogging track. Created around a beautiful ornamental lake, it boasts 12 stunning representations of modern arts handcrafted by some phenomenally talented Thai artists.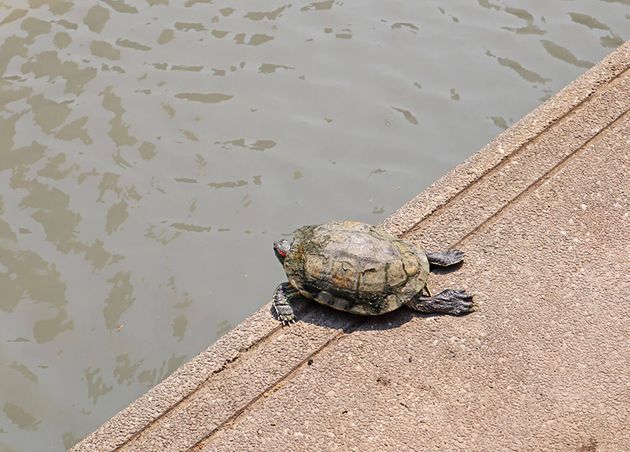 Spend your day sightseeing at Benchasiri Park in Krung Thep Maha Nakhon (Bangkok) and soak in the recollections of your visit that will last forever.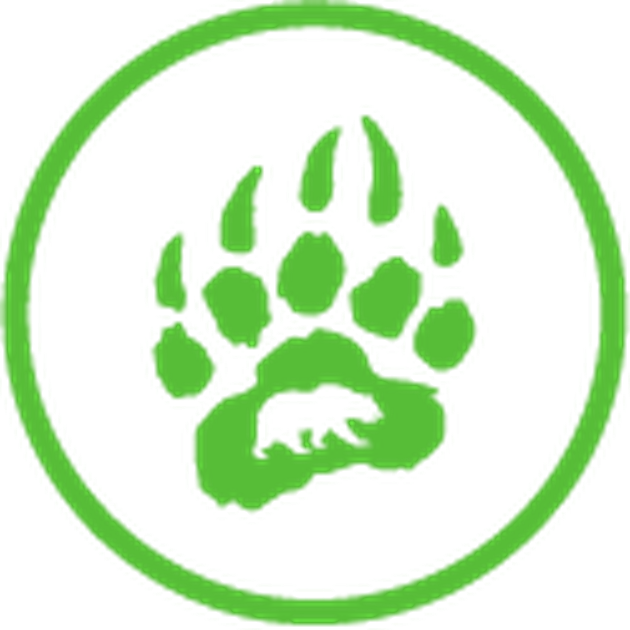 Fun Fact!
Benchasiri Park was created during the supremacy of General Chatichai Choonhavan, the 17th Prime Minister of Thailand. There is no entrance fee, and the park is declared a public place.
A Garden in the Middle of the City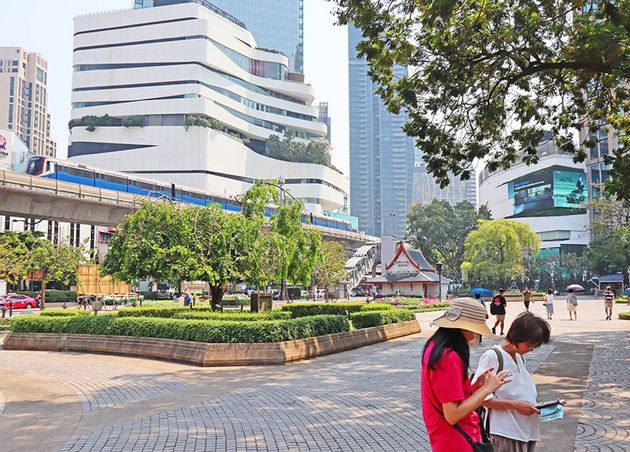 Benchasiri Park is one of the parks in the middle of the city that is well known to Bangkokians. Because of its location, near comforts such as shopping centers and the central train lines, this park is one of the refuges where citizens can effortlessly come to workouts, relax and exercise. 
It was created during the supremacy of General Chatichai Choonhavan, the 17th Prime Minister of Thailand, on the event of the Queen's birthday. The highlight of Benchasiri Park is its open area. It is wide open to behold the gorgeous image of the sky. It is covered with a line of giant trees around the garden that gives shade and contrasts with the surrounding crowded areas of the city.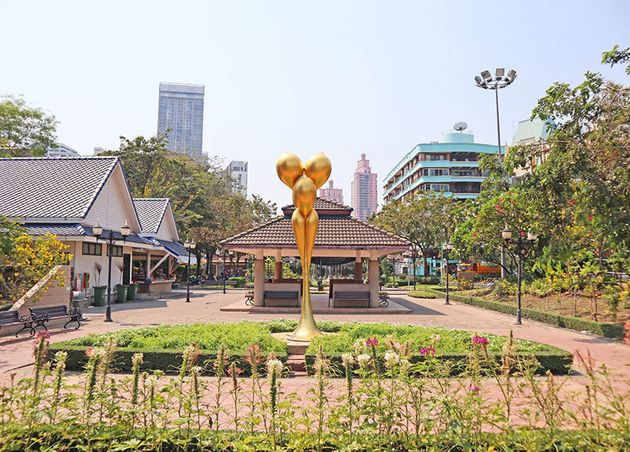 In addition, Benchasiri Park similarly comprises playgrounds, fitness centers, garden statues, outdoor fields, sports fields, and running tracks for the public to do activities in their stride.
It can be explained that Benchasiri Park is another haven for city people that will enable them to fill their physical energy and get rid of tiredness from work as well. And with its setting in the middle of the city, this park can be easily attained.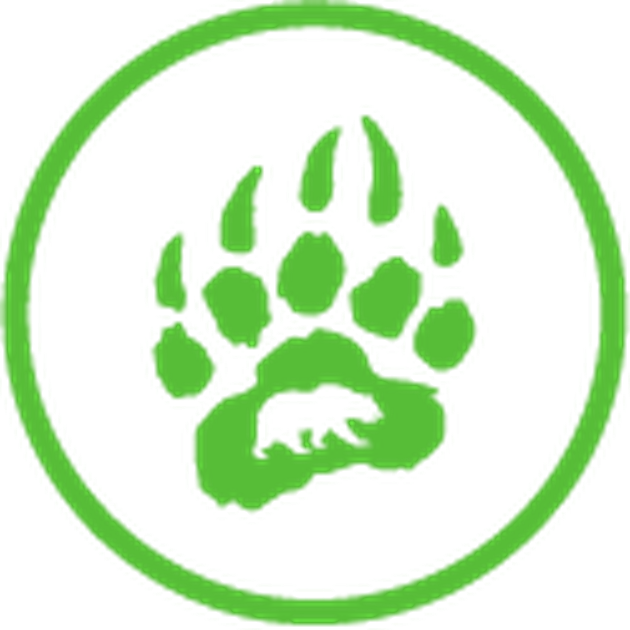 Trivia
This park is also called the "Queen's Park," as, on 12 August 1992, the 60th birthday of Queen Sirikit was celebrated at Benjasiri Park. Since then, it has been famous as Queen's Park.
Activities at Benchasiri Park

Playground
The playground has running tracks, inflatable climbing barriers,  and a considerable ground for sports that encourages the steady task of group games and adventure sports.
Swimming Pool
There is no fee for trying the swimming pool at Benchasiri Park. Parents are generally seen teaching swimming as a sport to their kids. It is well-maintained and has a pool broadened to the extent of 12.5 × 25 meters.
Sports Area
Blanketed under sky-soaring ageless trees, the sports area is enormous with various outdoor sports rinks and courts such as basketball, volleyball, and skate rink.
Dhamma ni suan
It is a way of confiding to the people who have difficulty attending a temple in any way. The entertainment takes place every Sunday from 7:00 AM to 9:00 AM and asks Buddhists to listen to the sermon and make merits.
Dontri ni suan
Every Saturday and Sunday, the people in the park can celebrate by giving attention to several Thai and International music pieces to relax and calm down. It is one of the most engaging activities in the park.
Festivals Celebrated at Queen's Park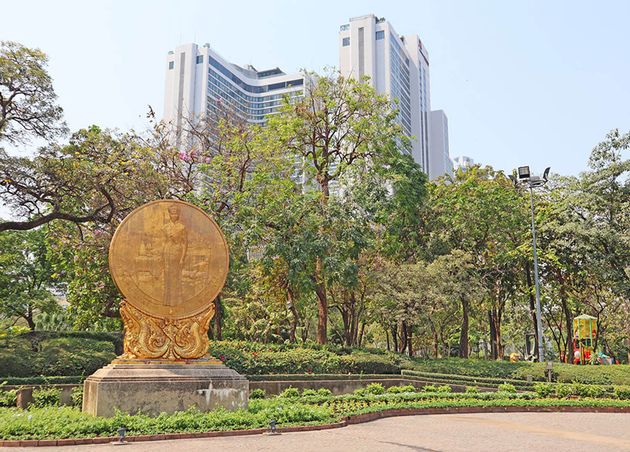 Benchasiri Park is prominent among travelers and tourists because it is relatively friendly. It is inferred that numerous games and festivities offer no entry cost.  The Annual Thai festival Songkran and the Loy Krathong festival are two major festivals that glimpse a pomp festivity in the park. Loy Krathong festival is a joyful festival where locals float their handmade baskets in the central decorative pond.
Recommended Best Time to Visit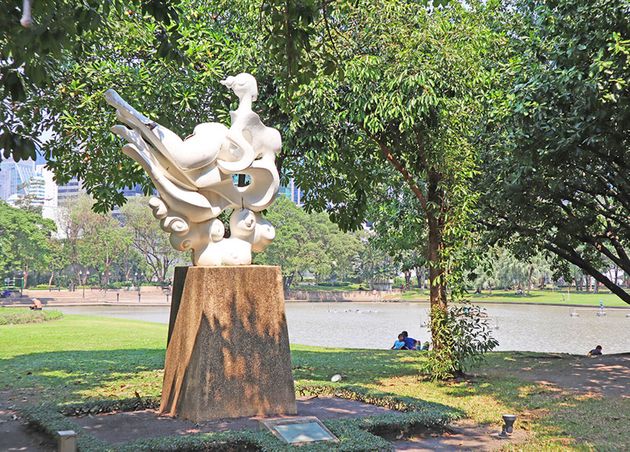 Speaking of the best time to visit, since the park is lovely, small, well-maintained, and clean, it is filled up throughout the day. The daytime spectator mothers with their children playing together around the swing or the slips or the guardians strolling in entertainment. 
Evenings are the golden hours at the park when the entire campus comes to life. The weather continues to get more relaxed, and the citizens enter the park to exercise, relax, and engage in activities like jogging, aerobics, basketball games, etc.
Why Visit Benchasiri Park in Bangkok?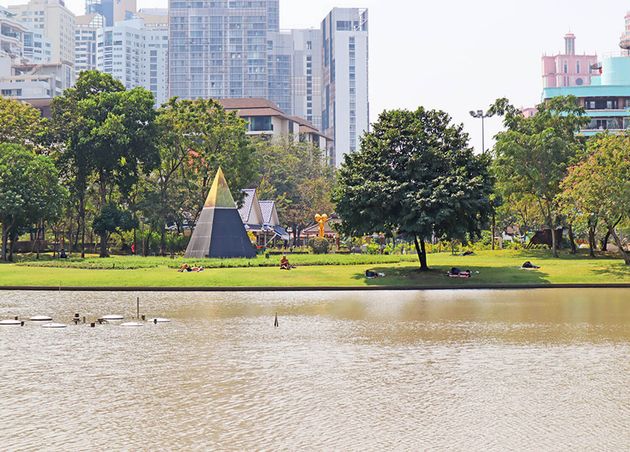 If you are looking for a calm and relaxing retreat from the bustle and rush of Krung Thep Maha Nakhon (Bangkok), this is the spot to be. Hidden with many tranquil areas to relax or take a walk, it is the friendliest picnic site for relieving tension.
There is a swimming pool at the park where children can get a kick out of a nice swim. And the park is utilized for open-air scenes and some fascinating entertainments like the 'Dontri ni suan' that are fun to see.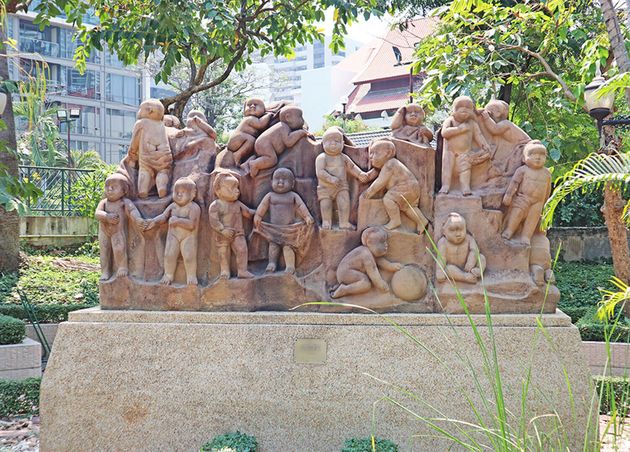 A boutique park filled with numerous beautiful shows, Benchasiri Park, makes it an incredibly gorgeous place to hang out. The park is enclosed with lush green trees, which give shade and a calming atmosphere. Inside the park are roaming paths all around that make it straightforward to walk around. On the way are lots of benches that invite you to enjoy a rest. 
Benchasiri Park calls attention to an assortment of monuments and other artwork that creates the place more elegant. People who like art will fall in love with the park. Among the most prominent attractions is a big memorial coin that perfectly demonstrates the portrait of the Princess.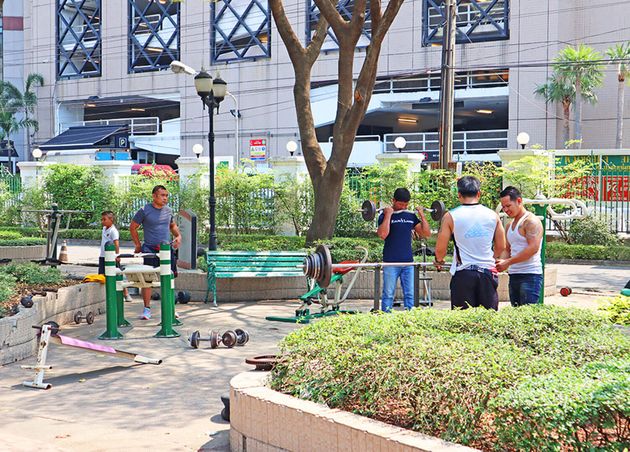 It is similarly a good place for a full-body workout. You will notice people jogging and running along the paths. Plus, the park has an outdoor gym equipped with mats and exercise equipment such as weights to maintain your body fit. Perhaps you have been busy touring around Thailand's prominent attractions during your holiday and had no time to do some workouts; attending Benchasiri Park will allow you to burn calories during your trip. 
In the middle of the park is an elegant decorative lake where the locals come to relax. Visiting the park will also show how people live in the city. Some come to exercise, others come here on terms, and others take endless selfies and relax. The good thing about the park is that it is found in an urban setting and is very close to the main road. It highlights the unique and comfortable viewpoint of city life.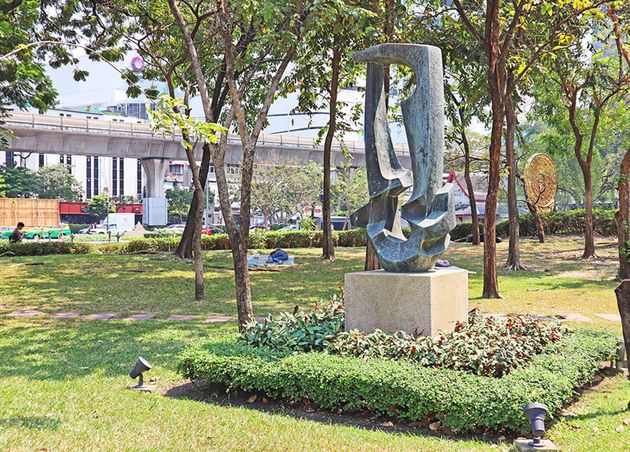 There is a sports area at the park with a volleyball and basketball court where the locals play challenging games at night which is a pleasure to watch. The park is kid-friendly since it has a playground where kids can have lots of fun with lots of gadgets. So, Benchasiri Park is truly a spot to put on your bucket list.
In addition, some people visit here to take shelter from the sweltering outdoor heat, read a book, throw food at the pigeons, or even simply soak in the sound of the swishing wind. 
How to Visit Benchasiri Park in Bangkok?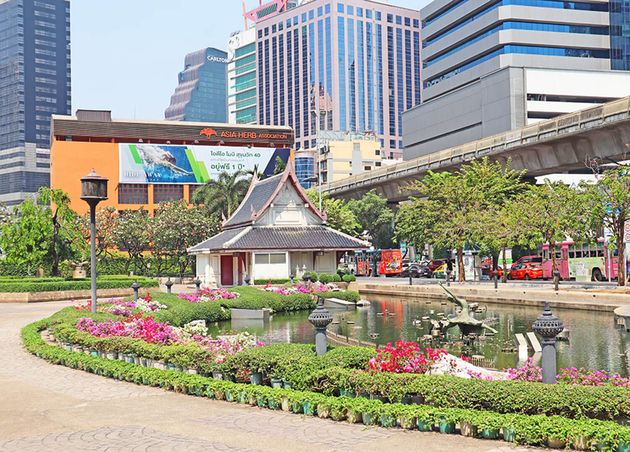 Benchasiri Park is positioned between the Emporium Department Store and the five-star hotel chain Marriott. The perfect location is Sukhumvit Road, Phrom Phong, Krung Thep Maha Nakhon (Bangkok). It is very straightforward to locate as it is strategically at the foot of the Phrom Phong station and the giant image of Queen Sirikit catches awareness.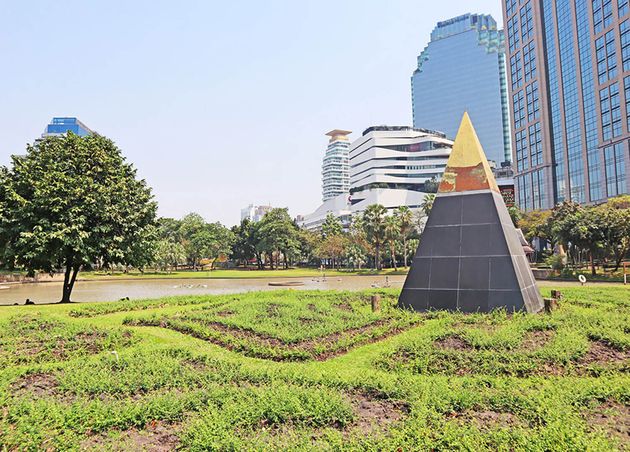 The setting is so commercial and unconditional that achieving Benchasiri Park is a piece of cake. One can just take the BTS Skytrain at Phrom Phong. The park is opposite the Phrom Phong station, between Soi 22 and Soi 24.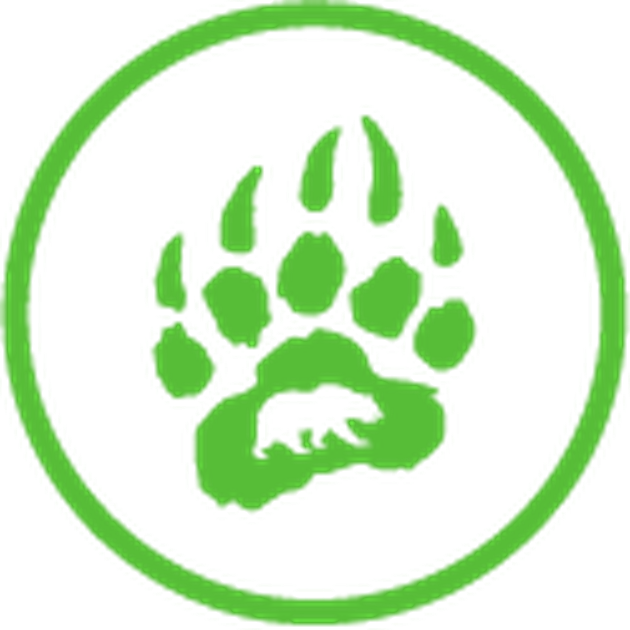 Did you know?
You can stop holding up a load of food and water bottles if you are available to eat out. The park on either end sees a string of cafes attending to the commuters and ordinary travelers daily.
Map & More Information
Benchasiri Park has been a green lung of Phrom Phong since its opening in 1992 to celebrate the promising event of HM Queen Sirikit's 60th birthday. This small public park owns lush trees, playgrounds, entertainment spots, and a comfortable atmosphere. Therefore it has constantly been a top entertainment spot for citizens of Sukhumvit. The park furthermore shows a collection of modern arts, the largest of which is a huge memorial coin demonstrating a portrait of the Queen.
| | |
| --- | --- |
| Business Hours | 04:30 AM - 22:00 PM  |  Monday - Sunday |
| Business Address | Sukhumvit Rd, Khlong Tan, Khlong Toei, Bangkok 10110 |
| Contact Number | (+66) 2 262 0810 |
| Website | |
| Facebook Page | |
| GPS | 13.7313966, 100.56793 |