Top 10 Best Coffee Shops You Must Try While in Thailand
In Thailand, seeking ancient temples, dealing with overpricing in enormous marketplaces, and trekking in burning heat may leave you exhausted 🏅 So, you may want a cafe where you can avoid the pressures of the day and replenish your energy with caffeinated drinks and tasty sweets 🏆
There are many tremendous coffee shops ☕ and wonderfully built cafes in Thailand, but some merit more than a passing mention and a visit. These cafes provide you with wonderfully planted, roasted, and manufactured coffee, enabling you to experience the whole bean-to-cup journey 🏅
Let's take a look at our list of Thailand's top 10 best coffee shops, keeping in mind that they are just some of the most prominent and unique coffee shops to gain an entire Thailand experience. All of these tremendous top 10 coffee shops are of excellent quality 🏆
#10 Oh La La Cafe at Sukhumvit Soi 50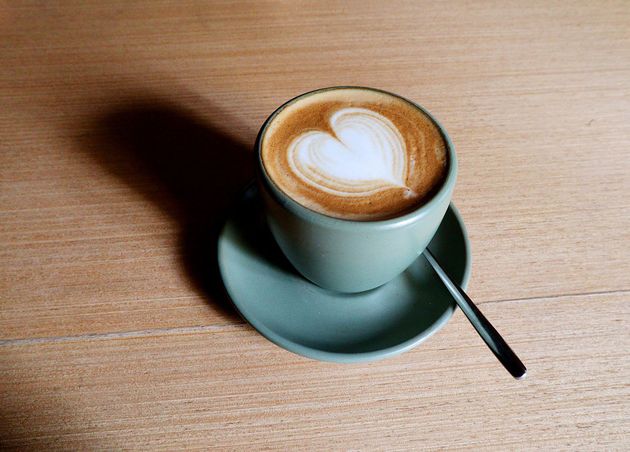 Oh La La Cafe is on my 10th spot as one of the best coffee shops you must try while in Thailand 🏅 It is in the heart of Krung Thep Maha Nakhon (Bangkok) and one of the best and most original cafes in Thailand to have some authentic traditional Thai foods. And particularly, it may be the best place if you are looking to proceed with your day with a delicious hot coffee ☕ Oh La La Cafe's outside and small inside are lovely nondescript with just some wood tables and chairs, a wine rack, and a display case for cakes and pastries. There's also a beautiful outdoor seating area that plants enclose 🏅
You can have amazingly tasting Matcha and espresso lattes, fresh juice, and classic Thai iced tea. But the best one is their coffee. And try the bacon and waffles, the sandwiches, and a slice of homemade cake as well! Oh La La is a fabulous place for an occasional outing for a coffee and leisurely breakfast before a day of sightseeing 🏆
#9 Petit Peyton Traveloque Cafe in Bangkok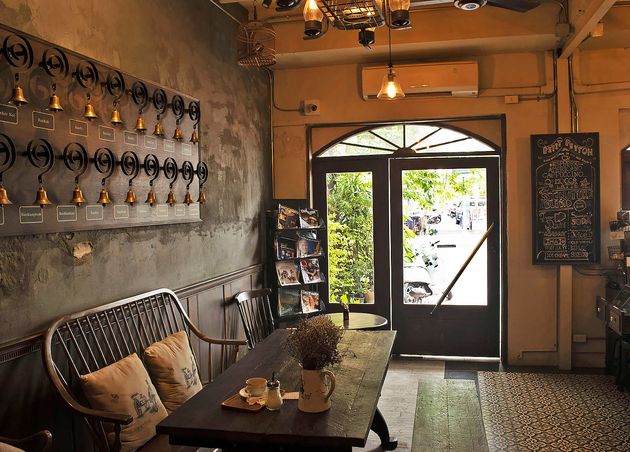 Rattanakosin Island is an outstanding destination for both Thai and foreign tourists. Therefore, it is not only stunning that it is filled with chic restaurants and cafes; Petit Peyton Travelogue cafe is just actually one of them 🏅 It is unique with an environment from the front to the inside that gives off a European retro cafe vibe
If you are looking for a cool place for a morning coffee or breakfast in Bangkok ☕, then Petit Peyton Travelogue Cafe is the best one. Gold Muddy is a dirty coffee menu like no other. In addition to getting the enthusiasm for espresso shots with milk mixture, it also has a sweet taste and flavor of caramel added to it. Or if you need a refreshing iced coffee, try Midsummer Espresso, Americano with orange juice. The cafe just has so many unique flavors and innovation 🏆
| | |
| --- | --- |
| Business Hours | 10.30 – 19.00 hrs  |  Tuesday – Sunday  |
| Business Address | 206 Maha Chai Rd, Samran Rat, Phra Nakhon, Bangkok 10200 |
| Facebook Page | |
| GPS | 13.7523405, 100.5022488 |
| Read More | |
#8 Cafe on Saphan at Chalomkhawithi Bridge in Chonburi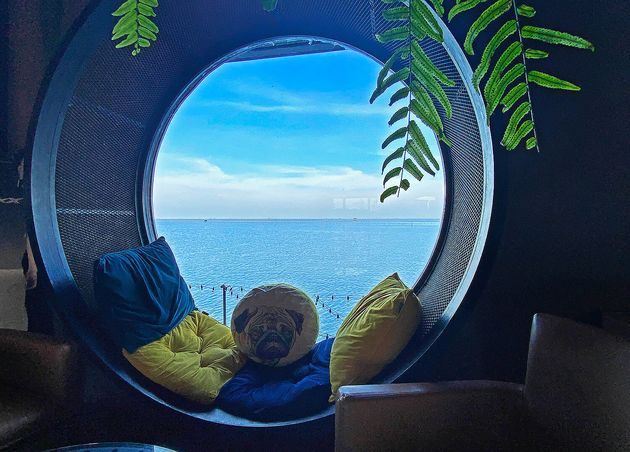 The Cafe on Saphan is a restaurant by the sea with a million-dollar view, reasonable price, mouth-watering foods, and drinks 🏆 It's one of the best places in Chonburi to relax and celebrate while sipping a delicious cup of coffee ☕ In addition, you can take pictures with the net outstretched into the sea, and if you visit during the sunset, you can also take photos of the sunset in an awesome, cool way. The cafe has an air-conditioned zone and an outside area to enjoy the sea breeze. It is also a good meeting place for teenagers to hang out with delicious snacks &  ice cream🏅
There are delicious foods and drinks to choose from as you like. A great taste of the coffee will make your meal even more delicious, and you'll undoubtedly go back again 🏆 Their service has always been consistent and excellent, and the staff is very friendly. So, if you come to Chonburi, it is very nice to come here before you go back home to refresh your mood with delicious food and fantastic sea views 🏅
#7 The M Cafe in Bangkok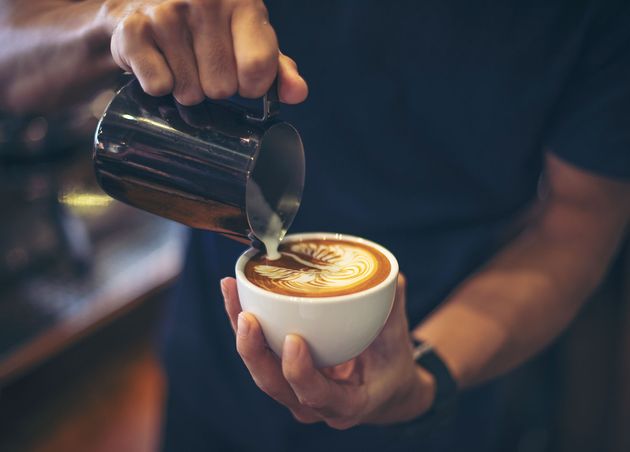 Another best place to have a cup of coffee in Thailand is the M Cafe in Krung Thep Maha Nakhon (Bangkok), holding 7th place in my list of the top 10 best coffee shops to try in Thailand. It is located on Phutthabucha crossroad road and near Bangkok at just 2.5 km 🏅 This coffee shop has a delightful view, and many Thai lovers dream of visiting there ☕
The building has two floors. Inside the shop have a lot of hero models from Marvel and DC, so fans should try to visit there one day. Their coffee and serving are also remarkable, and the price is satisfactory. This coffee shop is just truly appropriate for foreigners because the staff can communicate in English very well 🏆
| | |
| --- | --- |
| Business Hours | 8:00 AM - 6:00 PM | Thursday - Tuesday |
| Business Address | 45/36 Phutthabucha 36 Alley, Bang Mot, Thung Khru, Bangkok 10140 |
| Facebook Page | |
| GPS | 13.6467801, 100.4781394 |
| Read More | The M Cafe in Bangkok | The Bear Travel  |
#6 La Mesa Coffee Co. at Sukhumvit Soi 68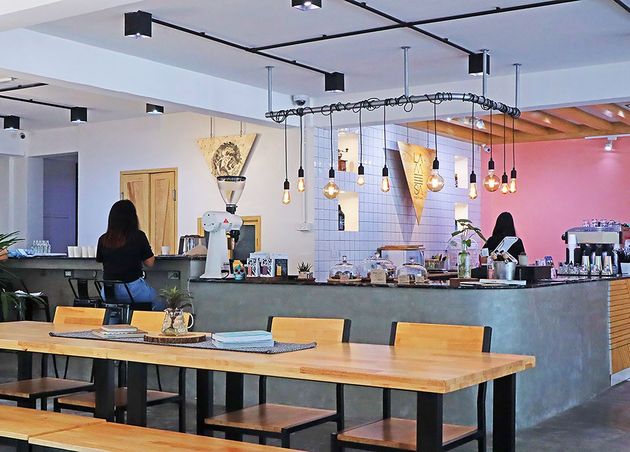 La Mesa Coffee Co. is great, while the atmosphere inside is cheering, chic, and unique. This cafe especially gives you great Mexican cuisine 🏅 You can have perfectly cooked huevos rancheros, chicken, and pork there to experience the real Thai feel, and you can always degust good waffles. The warm atmosphere of this place makes you feel relaxed and have a good time 🏆 The friendly staff can show how much they like their customers. Quick service is something these restaurateurs care about. This cafe is a must-visit for its tasty meal as well as for a morning or evening coffee out ☕
The owners are friendly and fully aware of the locally sourced coffee. Their New Mexican background enhances a unique and vital taste to Bangkok's already thriving cafe culture. If a delightful hot coffee cup is your thing, you'll surely be pleased with the quality brews available. Whether you live in the neighborhood or just pass through, stop by La Mesa. With all those facts, it holds our list's 6th place 🏆
Business Hours

08.00 – 16.00 hrs  |  Monday – Wednesday
07.30 – 20.00 hrs  |  Thursday – Sunday 

Business Address

7 2 Sophon Alley, Bang Na, Bangkok 10260

Facebook Page

GPS

13.6772735, 100.6058254

Read More
#5 Panlee Bakery in Bangkok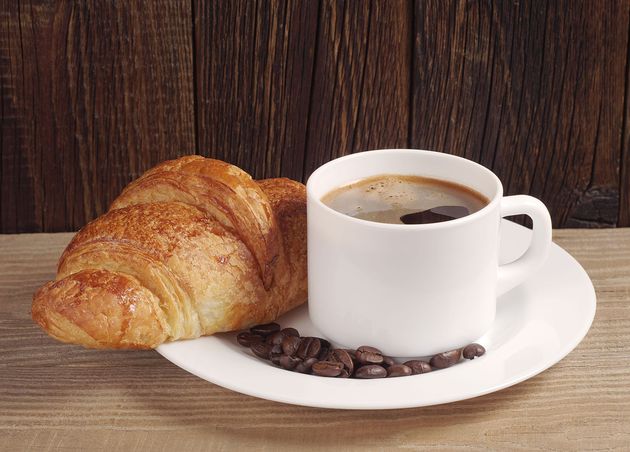 Pan Lee is a legendary classic bakery in Krung Thep Maha Nakhon (Bangkok). They have many classic ranges of bakeries and mixtures of coffee to be chosen from. Of course, not Western-style but more Chinese and Thai 🏅 You can also enjoy the sights of State Tower while reserving a table for nice meals or have a cup of coffee here ☕ Most guests propose trying good bacon, scrambled eggs, and egg sandwiches.  In addition, they have tasty brownies, biscuits, and pancakes with a pleasant taste while having hot tea or coffee.
So try getting your meal started with a delicious cappuccino, iced green tea, or Thai iced coffee here. The courteous staff shows a high level of hospitality at this cafe 🏅 High-quality hospitality is something these restaurants care about. Prices at Panlee Bakery claim to be very reasonable. Aside from that, it's a good place with a spectacular atmosphere, so surely, it's a worthy visit during your trip to Thailand 🏆
| | |
| --- | --- |
| Business Hours | 7:00 AM - 5:00 PM | Monday - Monday |
| Business Address | 1335 Charoen Krung Rd, Silom, Bang Rak, Bangkok 10500 |
| Facebook Page | |
| GPS | 13.7219221, 100.5167206 |
| Read More | Panlee Bakery in Bangkok | The Bear Travel |
#4 Seventeenth Canal Cafe and Space in Bangkok
The Seventeenth Canal Cafe and Space is a quiet, cozy place with an artificial canal. More interestingly, you can enjoy delicious coffees on the open deck in front of the canal 🏅 Even in the cafe, the wide door is open, so you are able to relax while having a nice view. If you wish, you can take a nap too.  And there are camping tents also available for your entertainment 🏆
This is a must to tell you that the drinks and snacks are wonderful here, most especially their coffee ☕ The cafe has its own inexpensive, strong coffee flavor and the tea taste is also very aromatic. The classic coffee menu has it all, even Dirty and Cold Brew, as well as the prominent Einspanner coffee menu 🏅
#3 Beehive Coffee House in Bang Kachao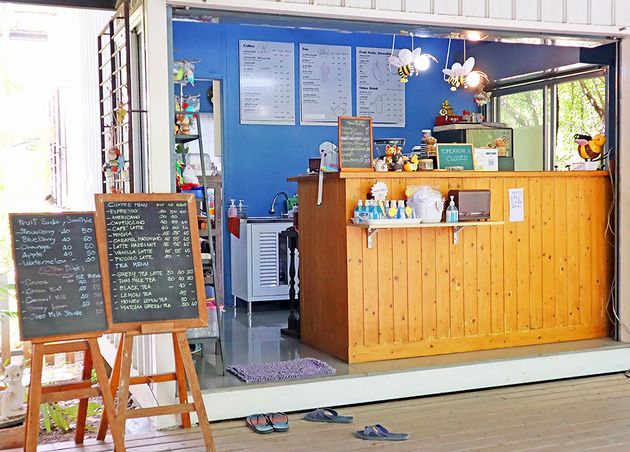 The Beehive Coffee House at Bang Kachao is a very incredible family-friendly coffee shop. It is a place where anyone can relax aside from eating your delicious breakfast meals 🏅 The feel of the summer breeze as well as the beautiful sight from its touch of nature look will surely make you calm and give you a feel at home.
It is just past the entrance to Bang Nam Phueng Temple in the distance. And especially, it has a very shadowy setting where it feels happy to sit and drink hot and cold drinks. Garlic Butter Toast is perfect for those who don't like sweets. Sip a coffee Americano ☕; it is warm, fragrant, and refreshing. Besides the typical Coffee Menu, Beehive offers a traditional Thai toast with sweet milk and chocolate, so you may really enjoy it a lot 🏆
| | |
| --- | --- |
| Business Hours | 07.00 – 16.00 hrs  |  Tuesday – Sunday |
| Business Address | Bang Nam Phueng, Phra Pradaeng District, Samut Prakan 10130 |
| Facebook Page | |
| GPS | 13.6780205, 100.5711551 |
| Read More | |
#2 Sarnies Bangkok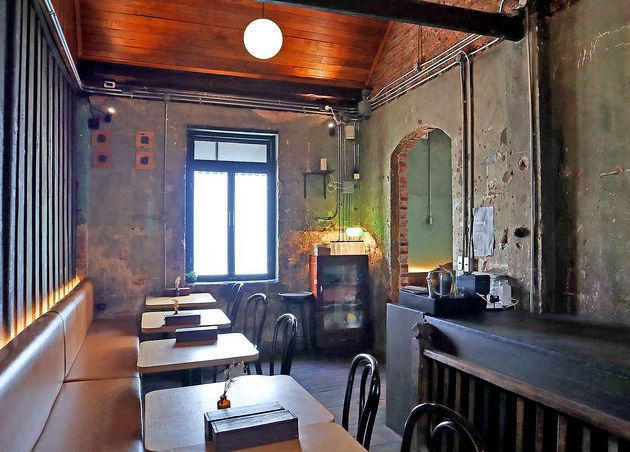 A popular cafe from Singapore has made its way to Krung Thep Maha Nakhon (Bangkok) and is now located at Charoen Krung Soi 44, Thailand.  The popular coffee shop Sarnies occupies a 150 years old shophouse that was once a boat repair shop 🏅 They have since renovated the shop, and it now looks very beautiful with most of the original fittings staying untouched, keeping the vintage charm of the bricks and concrete 🏆
Sarnies Cafe Bangkok is an extremely well-received cafe. They have been very busy, and they always have good food, refreshing coffee, and a nice place for photos; it is a distraction for many locals and tourists as well. You can experience the uniquely class classic stylings in the old town area with a fantastic scent of coffee. Also, it provides authentic food which is both good taste and gold decorations as a painting on your dish. They use the freshest, locally sourced elements and roast their coffee. From breakfast to dinner and all those coffee ☕ in between, Sarnies Bangkok definitely got you all covered 🏅
| | |
| --- | --- |
| Business Hours | 08.00 – 22.00 hrs  |  Monday – Sunday |
| Business Address | 101-103 Charoen Krung Road 44 North Sathorn, Charoen Krung 44 Alley, Bang Rak, Bangkok 10500 |
| Facebook Page | |
| GPS | 13.7210608, 100.5125742 |
| Read More | |
#1 The Coffee Club in Bangkok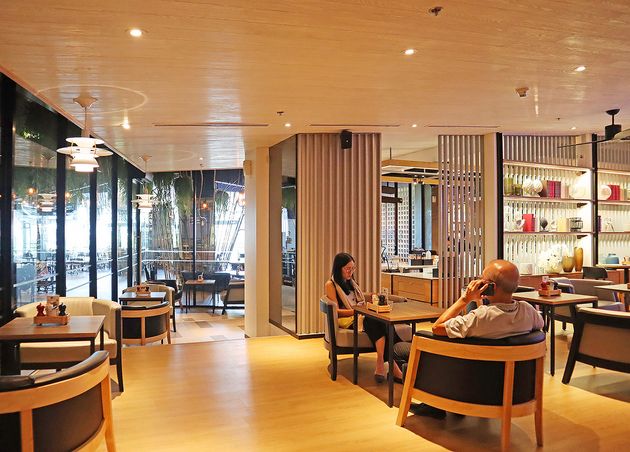 The Coffee Club, an Australian coffee chain, is the top-most best coffee shop you must try while in Thailand 🏆 It is pleasing and trendy inside and out, with hanging plants that warm up the space, modern woods, and subway tiles. So, Bangkok locals love this place for lunch or a quick coffee ☕ Plenty of tourists come here to sip a coffee while having a meeting or something 🏅
The Coffee Club is known around Krung Thep Maha Nakhon (Bangkok) for its variety of flavored cold brews, including yuzu lemon and hazelnut milk 🏅 There are also the classics, espressos, Thai lattes, as well as local specialties like iced Thai tea and green tea lattes. With everything from pad thai with prawns to blueberry-crumble pancakes, this is one of the best brunch places in the city 🏆
The staff is also extremely friendly. Everyone seems to like their jobs and sincerely cares about their customers ☕ This is a chic place to get your coffee fixed and a tasty bite, so make sure to check it out! 
| | |
| --- | --- |
| Business Hours | 09:00 - 17:00 hrs  |  Monday – Sunday |
| Business Address | 1 Soi Sukhumvit 13 Khwaeng Khlong Toei Nuea, Khet Watthana, Bangkok 10110 Thailand |
| Facebook Page | |
| GPS | 13.739841, 100.556938 |
| Read More | |
Thailand is one of the world's largest producers of coffee ☕, and it is one of the best destinations for coffee lovers. The genuine taste of the grown and brewed coffee is something that the mass-producing coffee empires cannot match 🏆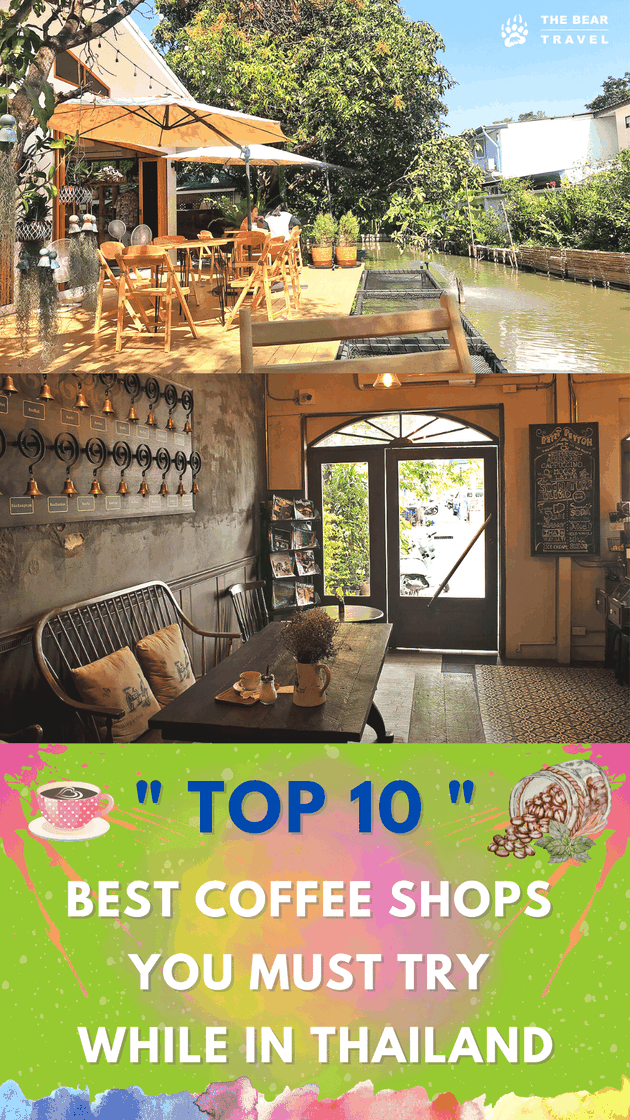 There are a lot of shops where you can get quality coffee in Thailand 🏅, but in this article, we discussed the best 10 places where you can find your unforgettable coffee experience ☕ You may surely find that there is something in all these places to make your every holiday a remarkable one 🏆